Kitchen Backsplash Tile
Kitchen Tile Backsplashes began life as something simply to protect the walls. Ceramic tiles are supremely versatile with many sizes, colors and shapes. They make it super easy to keep the cooking area clean in the kitchen, especially around the stove and the countertops.
As always with these things, what starts out as plain and functional, will always become something of beauty and charm once place in the hands and the mind of a designer, adding a bit of much needed style aand pizazz to what otherwise would be plain walls.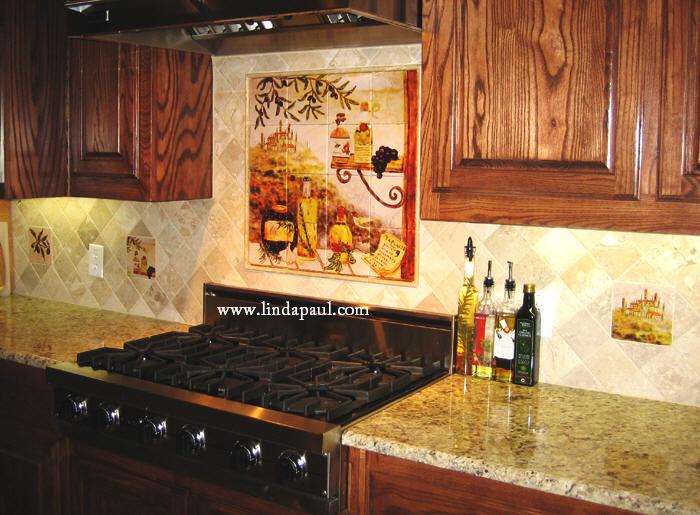 When thinking about a backsplash, you have to think big picture. In other words, are you tiling the whole kitchen, a certain section, or just using tiles in carefully selected areas, such as behind the stove. Will it be a full height backsplash, or just stopping at the height of the kitchen cabinets. And if its not full height, how are you going to decorate the untiled remainder of the wall.
You need to choose what material is going to best match the colors you have or are going to choose for other elements of your kitchen such as walls, cabinets, countertops, even floor tiles and appliances. Will you compliment or contrast with you kitchen tiles? Will you go natural stone finish for a more traditional country feel, or smooth and shiny to emphasise a more modern look.
Prices for backsplash tiles vary depending on what you have. Machine produced tiles tend to be relatively inexpensive, then mosaic tiles, then handmade tiles, mass produced murals on tiles, and then right up to the most expensive artisan hand painted murals create by a known artist, which can cost into the thousands.
Backsplash tiles can also be fitted in a variety of ways, spun on a diagonal angle, staggered, mixed colors and shapes, the choice and variety means that if you want it you can have something totally unique.
Kitchen Design Ideas Layout
Kitchen Backsplash Tile